by: Levent Kerimol
Our relationship to outdoor space has been very important during lockdown. But what if gardens were the key to understanding what makes community led housing unique?
Strangely, gardens may be more important than the housing itself.
Sharing amenities such as gardens is usually associated with cohousing. New Ground in Barnet has extensive gardens, and gardening is an activity that brings many residents together.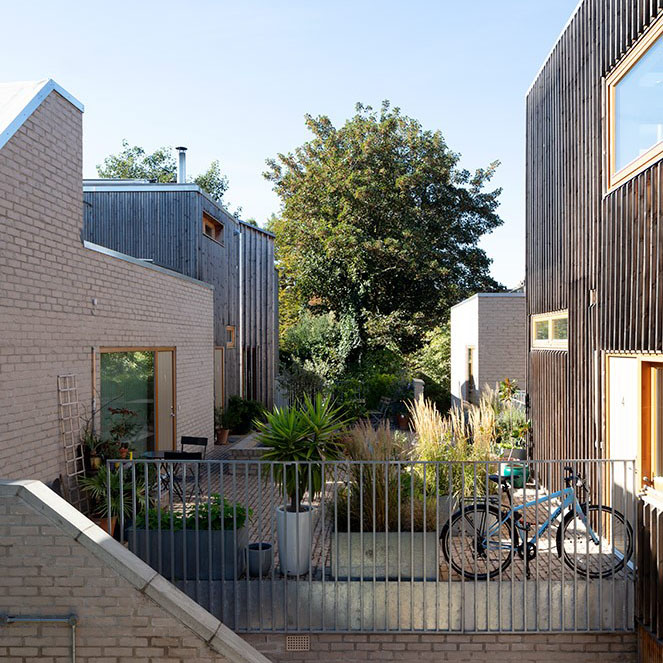 Copper Lane Cohousing residents share garden spaces and an outdoor terrace. Combining spaces makes them bigger than the 'postage stamp' each house would have had on its own and also gives a range of sunny and shady growing conditions for gardeners to experiment with.
Gardens often reflect the social and environmental ambitions of community led housing. Crystal Palace CLT formed from the local Transition Town group who run a number of food and growing community gardens – the next logical step is community housing. The Rural Urban Synthesis Society (RUSS) plans extensive community gardens on their Church Grove site to create a holistically sustainable neighbourhood.
Of course, many new developments feature areas labelled "communal/courtyard garden", but these are often tentatively used, and rarely loved. London CLT's St Clements housing was built by a developer to assumed expectations of household privacy and introversion. However an unexpected outcome of the Community Land Trust has been seeing neighbours of a pocket of CLT homes ignoring fences between gardens, to the extent their children think it strange when they visit friends houses that they can't wander into other gardens. The openness to living closer with neighbours comes from the community engendered through the process before people move in.
There is often little in the architectural design of community led housing that differentiates it from other housing. Sanford Housing Co-op was the first purpose-built housing co-op and is typical of 70s social housing. However the gradual appearance of diverse and abundant gardens managed by residents provides a rich physical expression of community. These include ecological areas, food growing and a pizza oven.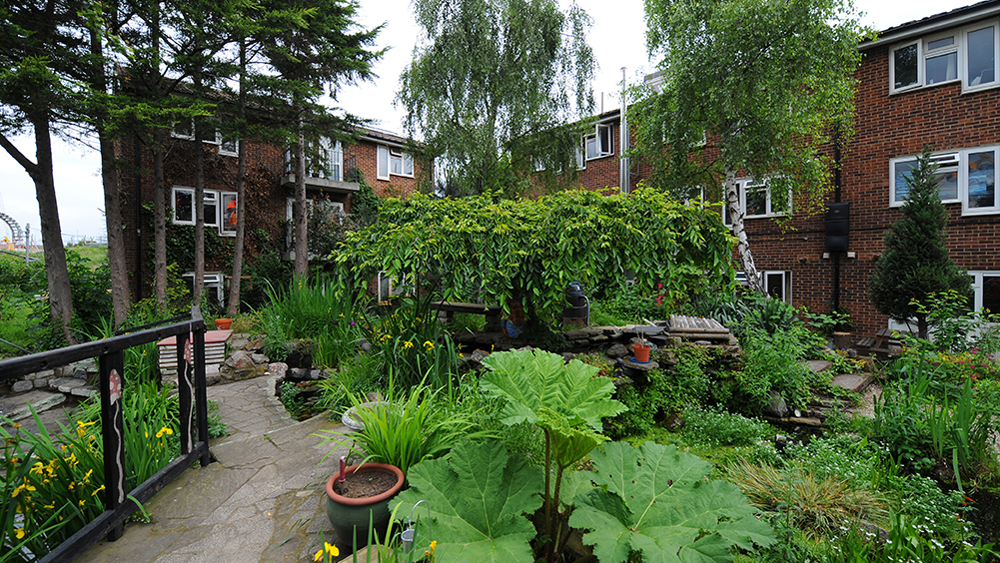 Even where existing terraced housing is taken over by community organisations, they are gradually changed by gardens that indicate these are not typical terraced houses. Brixton Housing Co-op owns a group of terraced houses whose back gardens form a shared urban oasis. Common ownership makes fences redundant. In Bonnington Square, lush tropical plants have spilled out to take over banal pavements (see image at the top of the page). This is an extension of the DIY guerrilla gardening attitude of the co-ops that emerged from squatted housing, and the common endeavour of campaigning to turn unused land into a pocket park for the neighbourhood, which is still managed by volunteers.
Perhaps gardens emerge where people feel settled and when they know their community. Community Land Trusts such as E16 CLT are motivated by allowing people to stay in their local area and put down roots despite rising prices and regeneration. Who knows what kinds of gardens will emerge?
Why not try our self-guided tour for Open House week, taking in the gardens that provide an expression of community, even if many buildings are not open due to covid.
You can hear from Sanford Housing Co-op, Crystal Palace CLT, and E16 CLT at our People Powered Homes event for London Open House in 2020.