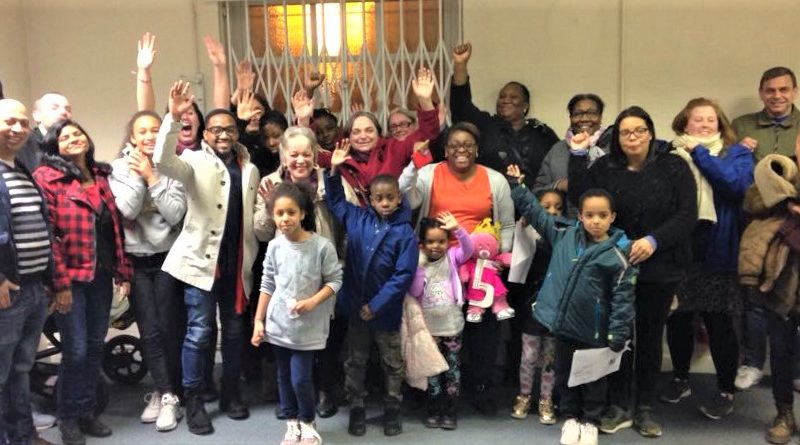 E16 CLT
E16 CLT was founded in 2018 by the People's Empowerment Alliance for Custom House (PEACH) as a resident-led response to the stalled regeneration of the area.
PEACH was set up by residents from the schools, churches, streets and clubs of Custom House to support each other, build strength and have a say over decisions which affect the community. It is part of the Big Local programme. Members voted on PEACH priorities include Jobs, Housing, Safety, and Health.
Following residents' concerns over the management of "temporary" homes, PEACH helped to stop evictions and improve living conditions for private and council tenants in the area. Residents felt that the regeneration of the area needed to be led by the community and began to develop an 'Alternative Regeneration Plan'. It involved a year long period of engagement and listening process with a team of community organisers, architects, and local residents in training. They knocked on over 1,000 doors to have 150 in-depth conversations and held 10 workshops with 170 people. They developed principles for regeneration in their local community, including genuine affordability – that new housing, shops, and services should be linked to local wages/income, and not to market price. The phased community led masterplan sought to increase the 560 homes in the area to 2000, with residents only having to move once.
To meet the need for genuinely affordable homes managed by the community for the community, PEACH founded the E16 Community Land Trust. The CLT now has a full board and a growing membership of at least 175 members from the local area.
How we're helping
E16 CLT are taking on the management of 10 vacant units owned by the council, after we put them in contact with relevant housing management experts.
Elected Community Representatives are taking an active role in the "co-production" of design, viability and planning work of the first phases of the masterplan with council officers.
We are also supporting feasibility work to build homes two sites the CLT have identified in the next phases of the masterplan. The CLT have commissioned architects and surveyors with our guidance on brief writing and selection.