A new community-led development of council rent homes shows how allowing residents to take a lead can provide new housing on existing estates and result in positive outcomes for all.
| | |
| --- | --- |
| Number of homes | 27 homes at council-rent levels |
| Location | Bermondsey |
| Project Stage | Built 2018 |
How they formed
The Leathermarket Joint Management Board (JMB) was set up by elected estate residents and has carried out housing services with borough funding and other support since 1996, securing a democratic mandate every 5 years. It now looks after around 1500 council-owned homes with tenants and leaseholders, mostly spread across a group of small estates covering five tenant association areas. The JMB established a Community Benefit Society (CBS) with Community Land Trust rules in 2014 to bring forward genuinely affordable homes for the community, following a housing needs assessment of residents.
Site
Tenants and Residents on the Kipling Estate, many of whom were overcrowded, identified the site which contained 12 unused garages. It was ideal for this development as it was small, within the JMB's management area, and closely bordering the homes of existing residents. Southwark Council retained the freehold but transferred the site to the Leathermarket CBS on a long lease, allowing the community to lead the project and manage the completed building.
Funding and Affordability
Community Right to Build funding from the GLA was used to carry out neighbourhood planning, consultation, and site identification across the area, and then to take the Marklake Court project to planning stage. Southwark Council met the construction costs as part of its council home building programme. The rents are slightly higher than existing rents on the estate, as they are calculated in terms of current day rateable values. Although they are slightly lower than London Affordable Rent levels.
Design and Construction
The CBS chose Igloo Community Builders as a development manager to inform their approach and assist in the development. Architects Bell Phillips and Igloo Community Builders were asked to make the wishes of Kipling residents integral to the project from very early on, holding several meetings with residents, along with walking tours of the area in order to understand what people wanted in terms of building height, materials, and design details that chimed with older nearby buildings they liked.
There was a real effort to integrate resident comments into the plans or explaining where things were not possible. Southwark Council gave planning permission to a mixture of one, two and three-bedroom flats within two blocks five and seven storeys high in 2015, and construction was completed in 2018.
Who will live there
A formal housing needs assessment was conducted during the neighbourhood planning phase. Kipling households who were either overcrowded or under-occupying were prioritised for the new homes through a Local Lettings Policy. This not only gave residents the chance to move somewhere more suitable in terms of space ("right-sizing"), and maintain local connections with neighbours and friends, but also to be at the heart of the development of their new homes. Knowing the new homes would be for existing estate residents made them more acceptable to neighbours, with a further knock-on benefit that their previous homes were made available for people on the council waiting list.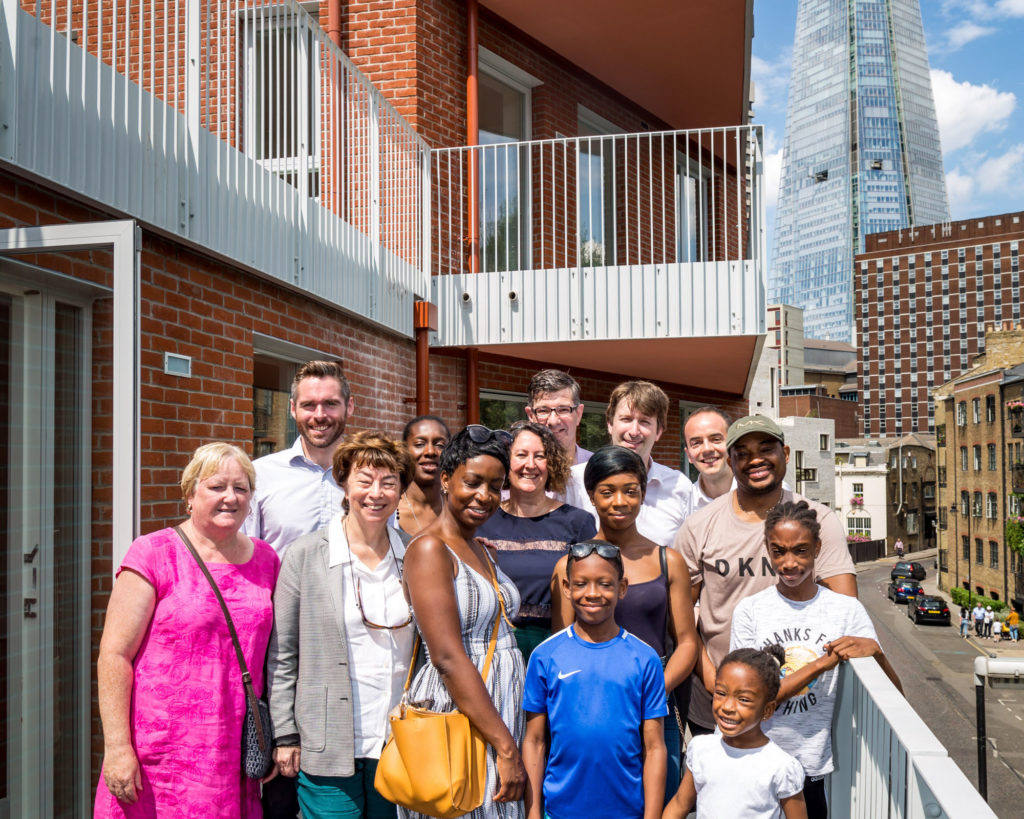 What's next
The Leathermarket CBS is continuing to work with Southwark Council on the gradual intensification of their estates with an identified pipeline of schemes. They recently completed another 40 homes at the former Joseph Lancaster nursery working with residents on the Lawson Estate, and in partnership with Southwark Council. There are two further projects in planning at the moment.