National CLT AGM and Awards 2019
Sat 5th October 2019
10:00 am -
6:00 pm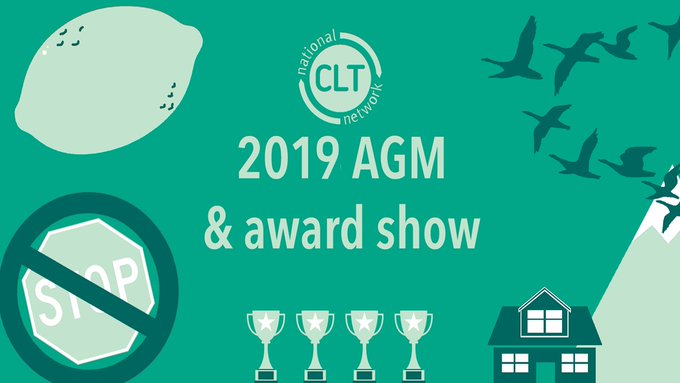 Join National CLT at their AGM to get an update on the movement, take part in workshops, learn new skills, and meet other CLTs across the UK.
The CLT awards is a great opportunity to acknowledge groups' acheivements, and nominations are open until September 11th.
Nominate inspiring groups and individuals here
---
The award categories are
Ain't no mountain high enough 
This award celebrates an individual whose passion is a driving force for their community land trust. They put themselves out there, they rally, they get people in the room and their determination to bring about real change is infectious. 
Can't stop, won't stop 
This award celebrates the unsung hero. The selfless person who goes the extra mile for their group. They're behind the scenes doing the vital invisible work. The community land trust movement is built on volunteer time so this is one award that could go to many, but we only have one. Whose efforts would you like to be recognised?
When life gives you lemons 
This award celebrates a CLT that has been particularly innovative in navigating barriers to  and coming up with out of the box solutions to build stronger communities. Being innovative is in a CLTs nature so there's plenty of examples out there. Get nominating! 
People-powered homes
This award celebrates CLTs that centER community. People power is at the heart of this movement and a CLT that prioritises relationship building in the local community is a CLT worth recognising for their efforts. Have you been impressed by a CLT's community organising and engagement? Nominate them! 
What a wonderful world 
This award celebrates a CLT that recognises the importance of sustainability especially at a time of such drastic climate breakdown. Have you come across a group or scheme that has impressed you with its conscientious design and application? Well, let's celebrate these efforts.