Housing and the Care Crisis: Redefining care practices through community led housing
Thu 24th June 2021
5:00 pm -
6:30 pm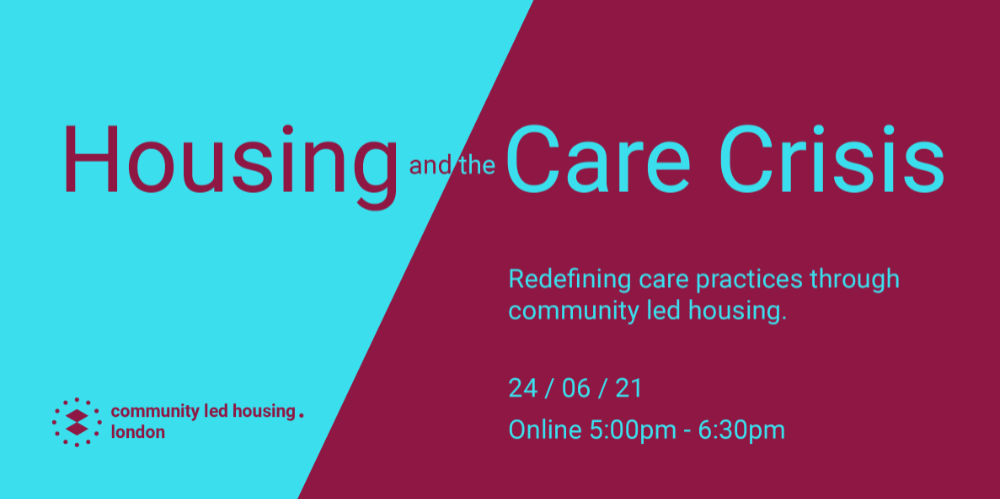 For many community housing groups active today, the development of alternative models of care is a common motivator.
In different ways, these groups are responding to the ineffectiveness of financialised models of care and unwaged, gendered social reproductive roles to meet the most basic of care needs throughout life.
Increasingly referred to as the "crisis of care" in today's society, these problems have been thrown into sharp focus by the Covid19 pandemic and events like the sanctioning of 'support bubbles', highlighting the ineffectiveness of traditional household and nuclear family-based care and support networks.
In response to this crisis, community housing groups are looking to redefine how we both understand and practice care in today's society. From mutual aid to mental health, childcare, ability and old age, these groups are developing radical approaches to how to improve quality of life through new ways of living together.
Join us for this online event where we'll be in discussion with community housing groups and key thinkers on the subjects of housing and care, to respond to the questions:
– What does the crisis of care tell us about how we should be thinking about housing today?
– How can community led housing help to re-imagine practices of care away from isolated, profit-driven models and towards those which are mutually supportive, collective and sustainable?
SPEAKERS
Guest speakers:
Helen Hester – Professor of Gender, Technology and Cultural Politics at the University of West London
Jim Hudson – Senior Research Associate on the CHIC (Collaborative Housing and Innovation in Care) project.
Maria Brenton – Adviser to Older Women's Cohousing & London Older Lesbian Cohousing.
Community housing groups:
Bonny Downs Cohousing – Newham
Homes in Mind – Harrow
Ginger Giraffe – East London