Acquiring land from charities – a primer for CLH groups
Wed 3rd March 2021
11:30 am -
12:30 pm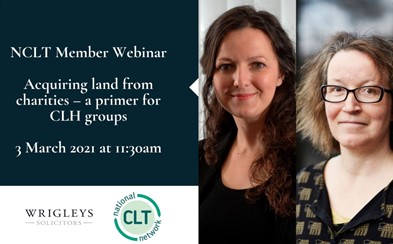 A member-only webinar about acquiring land from charities for your community led housing projects from experts Emma Ridge and Elizabeth Wilson of Wrigleys Solicitors.
The talk's aim is to spread a greater understanding of why charities cannot necessarily give preferential treatment to community-led housing groups. The emphasis will be on CLTs but the information will be useful for all CLH groups and will cover:
An explanation of the difficulties that charities can face in disposing of property to CLH groups
The various legal and regulatory obligations that charities have to comply with
A look at the recent publicity about the Church's decision to dispose of an old school site to private buyers rather than to a local CLT
Possible ways for CLH groups to make it easier for charities to transfer much-needed land to them.