Mabel Amponsah is a board member of E16 CLT in Newham. She spoke to our Hub Co-ordinator Laura about how the CLT was set up and how she and other community members are working with the council to include a community-led approach to the regeneration of Custom House.
Unity in Custom House
Mabel is a resident of Custom House estate in Newham, where she has lived with her family for 10 years. Mabel was living in temporary accommodation in Newham when she found out about community organising initiative, PEACH (The People's Empowerment Alliance for Custom House). She was dealing with rent and repairs issues and tells me "I spoke to a lot of neighbours around because we are like a unit in the area."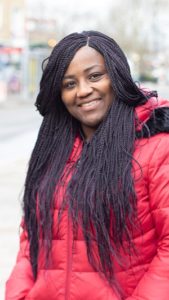 Mabel (pictured) has been working with PEACH for six years as a volunteer. When working working there, the community came up with the idea of a proposing an alternative to the Council's own regeneration plan.
She told her neighbours, "I think we need to have our voices heard and to give it a try."  Working with architects, community organisers and local residents, they put together a plan for how they want to see the future of Custom House.
As part of this plan, they came up with the idea of creating a Community Land Trust to own and manage homes in the regeneration. Mabel and other community members came together and did lots of research and realised, "oh wow, there's an opportunity for us to start a legacy, especially with high rates of poor housing and poor living conditions and so on, and so it is time that the community takes control back of their housing situation."
Having done the research, they didn't know how they would bring their ideas to life, but a visit to Brighton CLT helped to see how these ideas could be real. "We actually travelled to Brighton and we saw their model, which was quite something for me. It brought reality home." They saw it was possible and decided to set up their own CLT at Custom House.
What does community mean to you?
"The community is a family to me," Mabel tells me, "it's where you communicate, you share issues, you bring up common interests that need to be resolved. You work together as a team; you empower each other – you build those skills that someone may lack."
For Mabel, the community is a "collective of different people who are coming together for the best interests of the area that they live in."
Through the work the CLT have done developing their own ideas, Mabel and other community members have gained a lot of insight into the world outside their own circle of family, home and workplace.
E16 CLT is united and organised but Mabel tells me that they also have "ups and downs and challenges – it's never a smooth thing!"
What does the future hold for E16 CLT?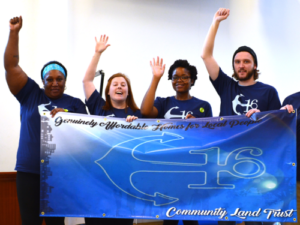 "The future hope is that we will be able to work hand in hand with Newham Council, to acquire land and to build properties which will be led by the community."
Mabel tells me that there are "two sides of Custom House – my side I would say is the lower economy class, but when you go over the bridge, you have all these hotels and you feel like you're in a different part of the area."
Mabel senses there is an opportunity from the ExCel centre being so close. "If people from around the world are coming in to our borough and especially our local area, bringing something positive, how come we the residents don't know what's going on?"
For Mabel, these two worlds "need to learn how to work together".
Mabel sees a future where the bridge does not create a divide between two communities, where house prices and school choices aren't so different, but a future where the bridge unites the two communities of Custom House.
Mabel believes E16 CLT can create one unified, diverse community where people's life chances and opportunities are the same. "With the community coming together, we can bridge the gaps in society."
How will E16 CLT achieve that bridging of these two worlds?
"The CLT has done a lot of work talking to people in the community one to one, we've had interviews, we've run workshops, where people have shared their ideas of the type of community they want to see." They have then been able to relay those ideas to the council so that they can be taken on board.
It is early days, but they are hoping that the time taken to share these ideas and educate themselves through things like site visits, has meant that they will have more influence with the council going forward.
"A good relationship with the council is what is going to make that transition, in terms of not feeling that difference between one side of Newham to the other."
Telling me about working together as a team at E16 CLT, Mabel explains, "It's hard work" but she believes "it's all about communication, trust, relationship building, working together, understanding each other, being open and honest about what is going to get us there."
Interesting times at E16 CLT
It's a busy time for the CLT Mabel tells me. "We are doing a feasibility study for CLT homes in Custom House".  "We are also in contact with the regeneration team of Newham Council, communicating with them about how we can use those areas in the meantime whilst the regeneration is going on and how they can support us to acquire the land."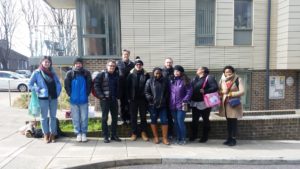 "The most exciting thing," she tells me "is that the relationship with the Council has become much stronger. We have more energetic, lively, vibrant people with more to offer."
Now the Council have agreed to work with E16 CLT, this feels like the most exciting development so far. "We are working in partnership, not working against each other."
Mabel is very determined that there will be no difference between the look of the private sector developments, social housing or the community led schemes. The idea of coherence and feeling part of one big community which is unified and diverse is crucially important to the CLT.
What are the next steps for E16 CLT?
Mabel tells me there will be the CLT's third AGM for members at the end of September which "is a real achievement" to get this far.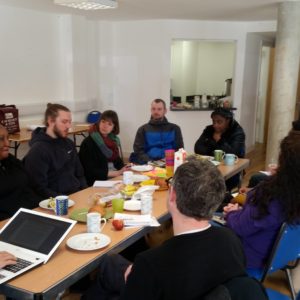 Another big step is negotiating with the council over the management of some empty homes in the area. Mabel tells me E16 CLT is looking to take on some "empty council properties and manage them to become a community landlord."
She tells me she believes there are 10 properties that the Council may allow them to manage. There is a lot to do to prepare for this step, such as agreeing an allocations policy and repairs strategy.
The CLT will also be able to set the rents and the security of the tenancies for these properties. Mabel explains that currently her rent is 75% of her income and so it is impossible for her to save up to buy her own home and feel more secure in her tenancy. The fact that the CLT can give people like her, that security will be completely life changing.
How has CLH London benefitted E16 CLT
CLH London has helped E16 CLT in a number of ways. Mabel tells me the key things were "learning all about CLTs in the beginning and how to recruit new members", and that with the help of CLH London "we've revisited our code of conduct to help with recruitment". There has also been help with the website and social media so that E16 CLT could recruit new members and publicise their work.
Mabel explains that if they had been trying to do this on their own they would have missed out on many partnership opportunities and chances to learn from other groups about how to set up and run their CLT.
There is a lot to learn , but "no matter what faces us, good or bad, we have that support, we have got that encouragement, that empowerment, to push us on and we don't give up."
Knowing that the future of the CLT is bright, Mabel tells me "it gives you all the hope to know that it is possible, we are not alone."
Have you got an idea for a community led housing project in London?
To learn more about the kinds of support available, visit our support page, sign up to our mailing list or follow us on Facebook, Twitter and Instagram @CLHLondon to find out about upcoming events and training.